Join Our Parent Empowerment Group
Julie Skolnick, M.A., J.D. and Founder of With Understanding Comes Calm, LLC brings you the Let's Talk 2e Community. This isn't your typical support group. Our "Parent Empowerment Groups" yield growth and change through a mix of education on critical topics for understanding the twice exceptional profile, and community-based camaraderie with a global group of like-minded and like-situated parents.
Your Parent Empowerment Group includes:
Hear Your Personal Invitation From Julie...
Community is a direct path toward joy.
We know it's complex to parent gifted and twice exceptional children. 
We also know, just like our kids, parents of 2e children have a hard time finding peers who 'get it.'
Wouldn't you love to sit down with parents who understand what you are going through?
The Let's Talk 2e Parent Empowerment Group brings together parents from all over the world for six awesome weeks where we:
Deeply dive into understanding the complexity of 2e
Connect over personal experiences – the good, the bad, the ugly
Provide and receive much needed support and fellowship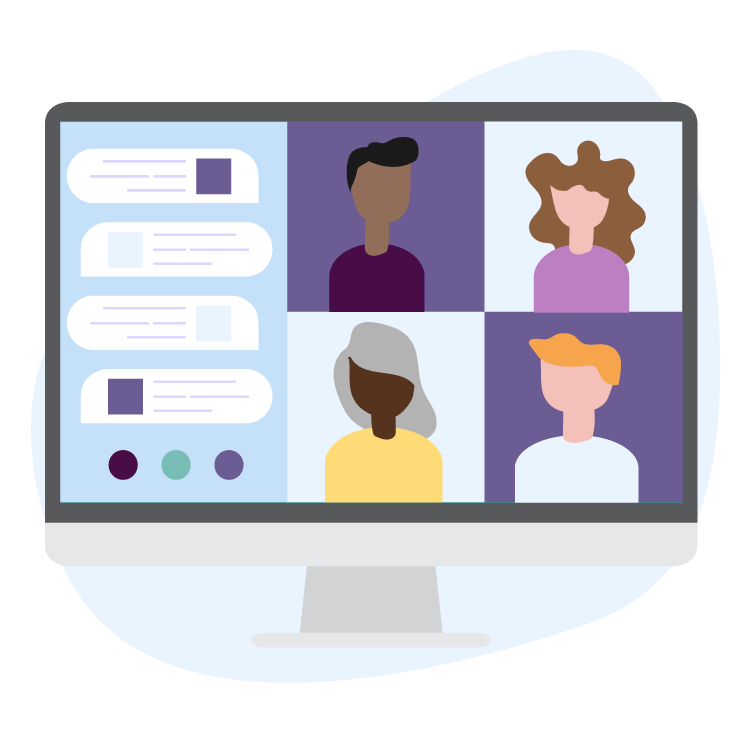 Committed to the idea that With Understanding Comes Calm, each session includes an informative presentation and discussion, as well as intimate breakout rooms to support one another.
We are excited to bring new understanding to you and your family and to provide strategies you can implement today.

Our expert guests will join us as we navigate what it's like to parent a 2e child in today's world.
Seth Perler, M.Ed.
A Roadmap to Change: How to Guide Young People from EF Struggles to Success
When trying to help a child of any age with Executive Function, what are the actual steps we can take to help create real change? Here we identify 9 core steps on the journey, so you can have a concrete idea of how to help.
Seth Perler is a well-known Executive Function Coach, educator, vlogger, and guy who cares about seeing outside-the-box kids succeed. This means that he helps struggling, neurodiverse learners turn it around in a baffling system so they can launch a successful future. His weekly blog, SethPerler.com gives parents and teachers game-changing answers in a sea of misguided educational fluff. Seth also runs TEFOS, The Executive Function Online Summit.
Elaine Taylor-Klaus, MCC, CPCC M.A.
Why all the Yelling? Taming Family Triggers
Family life can be stressful on a good day! Mix in two parts Twice Exceptional and you can have a HOT MESS in no time! Join Elaine Taylor-Klaus, a Master Certified Coach, and learn targeted concepts and tools from the coach-approach to parenting. Taming the tension will help everyone enjoy family life with more peace and calm. 
Elaine Taylor-Klaus, MCC, CPCC co-founded the first global coaching organization for parenting neurodiverse kids (ImpactParents.com, originally ImpactADHD®). The mom in a complex family of 6, she co-created a collaborative problem-solving method based on a neurodiversity-informed coach-approach: the Impact Model. An author, speaker, parent educator, coach and trusted advisor, Elaine supports adults who see the potential in their children or teams, and want guidance to help them reach success. She is the co-creator of Sanity School® for Parents, and the author of several books including Parenting ADHD Now! Easy Intervention Strategies to Empower Kids with ADHD, Parenting with Impact and The Essential Guide to Raising Complex Kids with ADHD, Anxiety and More.
Parent Empowerment Groups meet via a unique Zoom room link. To keep the meetings as intimate and personal as possible space is limited.  Sign up today to ensure your spot.
Each live-webinar education session includes a recording for community members. We always have time for questions and discussion following the education presentation.
Membership includes exclusive perks
Membership Perks included with your Let's Talk 2e Community:
"I was so validated by hearing the experiences of other parents. I so often feel alone in my parenting journey and these sessions reminded me that there are others in the same boat."
"The combination of alternating weeks of webinar/speaker sessions then open discussion was really helpful for processing and internalizing what I learned!"
"It was so relieving to finally find support and education from people who actually "get" what it's like to be a 2e parent!!"
"I loved finding my community and learning from Julie each week. The name of the group is spot on. I do feel empowered and ready to be a strong advocate for my son."
"The content was superb and presented in a way that was easy to understand and relevant to my situation. I loved the use of scholarly terms so that when we (as parents) communicate to others about our child's unique needs, our dialogue will be received as researched rather than opinionated. The community portion was powerful, especially during this pandemic period in our socially distanced and isolated lives. For me, it was the first time meeting parents with similar concerns and experiences."
"I'm so thankful for Julie's wealth of knowledge, and the kindness and generosity of the community"
Register for the May-June Parent Empowerment Group Series today!
Join the WAITLIST below to get notified when we announce our next group.
We are excited to bring new understanding to you and your family and to provide strategies you can implement today.